I sold the Breeze. Well my grandfather bought it from me, but he buys and sells cars like it is a hobby to do so. So I expect in a month some new person will own it. At least I can still see it once in awhile XD I can't help it...I officially owned that car for 8 1/2 years. The title and everything is in my name. It was the first real financial obligation I ever had. I'm very attached and sad to see it go.
But it was time to move on. I needed a car I could trust, something I was losing the more and more I drove the Breeze. Goodbye dear car. We've had some good memories.
Like our very first convention...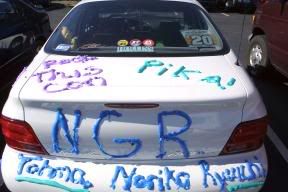 While looking for that picture I found some EPIC ones that I had forgotten about.
( Sakano and the NY SNOOOOOW )